The Top 10 Graffiti In CS2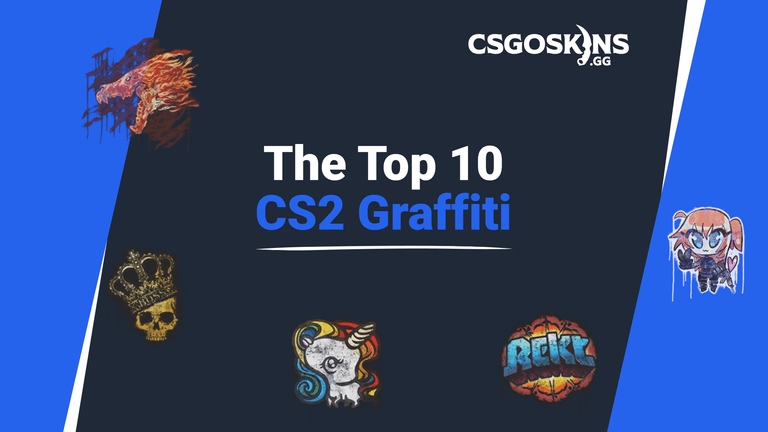 Enjoy up to 30% discount on skins at the CS.MONEY Market
If you've been a fan of the earlier titles in the Counter-Strike franchise including CS 1.6, Condition Zero, and Source, chances are that you're already aware of the importance of 'sprays' in those games. It used to be an incredibly popular game mechanic in Counter-Strike that was used by almost every player playing the title after getting a kill on their opponents or simply at the start or end of each round.
For the uninitiated, spray in CS is a game mechanic that allows a player to place an image or symbol on any in-game surface with the press of a button. In CS 1.6, CZ, and Source, players can select from a bunch of default sprays provided to them in the 'Options' menu, or they can import one from the internet or via third-party applications.
Each player can only have one spray active at any time. Placing a new spray removes the old spray. Otherwise, a spray is automatically removed after a certain amount of time.
Evidently, Counter-Strike fans weren't happy when the mechanic of spraying was removed from the game in its entirety in Counter-Strike 2. And even though the players repeatedly asked the devs to add sprays to CS2, it wasn't until October 2016 that Valve finally shipped the update that brought sprays to the game in the form of 'Graffiti'.
Graffiti in CS2 works similar to sprays in the previous CS titles, with a few notable differences. While players can spray various logos onto in-game surfaces by pressing the graffiti keybind, they are now limited in number. On top of that, unlike sprays, graffiti are not free, and need to be bought from the Steam Community Market to be used while playing.
Graffiti can either be obtained from level-up drops and by purchasing graffiti boxes. Each graffiti can be used 50 times before they expire and are removed from a player's inventory.
While graffiti are not as popular in CS2 as sprays used to be in the previous CS versions, there are still thousands of people who use graffiti to celebrate their kills, or to simply tilt their opponents. If you're looking to get yourself some nice graffiti in CS2, look no further.
The Best Graffiti in CS2
Let's take a look at some of the best graffiti in CS2 that you can purchase right now from the Steam Community Market and use in your competitive games.
1. Howling Dawn
The first entry in this list is none other than the iconic yet controversial Howling Dawn graffiti. It takes inspiration from the Contraband Skin M4A4 Howl, which was introduced to CS2 in 2014 but was later removed from the game. While the Howl is an extremely rare skin that can no longer be directly obtained from any cases, the Howling Dawn graffiti is still available as an exotic drop in the CS2 Graffiti Box. If you're looking to add the remarkable Howl pattern to your collection, but can't quite afford the M4A4 Howl yet, then the Howling Dawn graffiti is your ideal pick.
Sealed Graffiti | Howling Dawn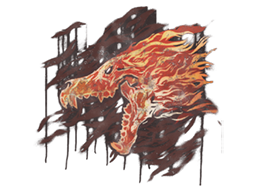 2. Crown
The Crown Foil Sticker is one of the priciest stickers that you can buy in CS2. Due to the sheer popularity of the sticker, the design was later reimplemented to the game in 2016 as part of the 'CS2 Graffiti Box'. It isn't nearly as pricey as the Crown Foil, but bear in mind that being a graffiti, it can only be used 50 times before it disappears from your inventory.
Sealed Graffiti | Crown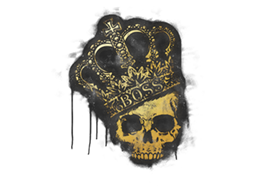 3. Unicorn
Speaking of iconic stickers that got converted into graffiti later, it's impossible to not talk about the Unicorn. After being released as part of the Enfu Sticker Capsule in April 2015, the Unicorn Holo became an instant hit in the CS2 community, thanks to its colorful appearance with a magical design. The Unicorn eventually got converted into a graffiti that made it to the game through the Community Graffiti Box 1.
Sealed Graffiti | Unicorn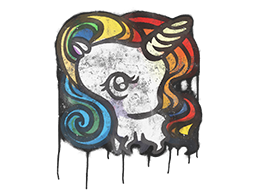 4. Rekt
Alongside the Unicorn graffiti, the 'Community Graffiti Box 1' also introduced the Rekt graffiti to CS2. Being an exotic graffiti, the Rekt is generally pricier than most other graffiti in the capsule. It is also one of the most popular graffiti in the game and is commonly used by players when they manage to secure a trickshot on their opponents.
Sealed Graffiti | Rekt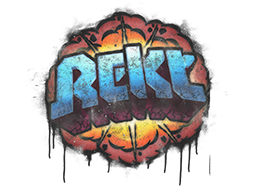 5. Kawaii Killer CT
Both the Kawaii Killer CT and the Kawaii Killer T are remarkable-grade graffiti that are found in the 'Community Graffiti Box 1'. While these Anime graffiti aren't as popular as their sticker counterparts, they still look just as pretty. You can check out our list of Anime stickers in CS2 if you want to have an Anime-themed inventory. These graffiti also go well with Anime skins in general.
Sealed Graffiti | Kawaii Killer CT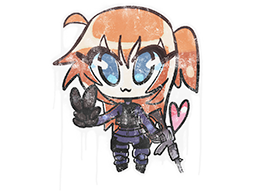 6. Noscope
The Noscope is the cheapest graffiti on this list and one of the few graffiti that can be obtained via drops. Despite having a low price point, the Noscope graffiti is ideal for AWPers who like to try out their luck on Noscope shots. Interestingly, you can also hold the graffiti button while having this graffiti equipped to get an accurate estimate of where your crosshair should be when you're trying to hit a noscope. It's available in 19 color variants, all of which you can check out here.
Sealed Graffiti | Noscope (Battle Green)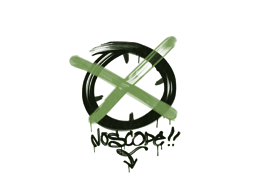 7. Drug War Veteran
The Drug War Veteran sticker originally rose to fame as a meme, but it didn't take long for the CS2 community to come up with some amazing crafts involving this sticker. It was later re-introduced to the title in 2016 as an Exotic graffiti and it still stands strong as one of the most popular graffiti in the game.
Sealed Graffiti | Drug War Veteran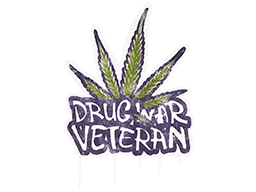 8. Fire Serpent
While most CS2 players don't plan on buying the AK-47 Fire Serpent any time soon due to its high price tag, the graffiti version of the Fire Serpent is much more affordable. Featuring a similar design to that of the AK, the Fire Serpent graffiti is available for purchase in the community market at a low price of around $2.
Sealed Graffiti | Fire Serpent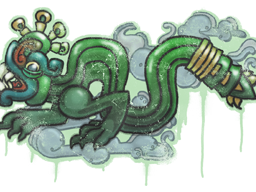 9. Guardian Dragon
The Guardian Dragon graffiti was added to CS2 at the time of the game's release in China in September 2017. It has a red base and features a dragon with bright yellow eyes and an AK-47 on either side of its head. The word 'Dragon' is inscribed in yellow towards the bottom of the graffiti.
Sealed Graffiti | Guardian Dragon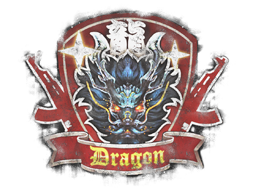 10. Clutch King
If you're finding yourself being the last man standing for your team and pulling off incredible clutches way too often, then this graffiti is for you. The Clutch King graffiti has a simple design that features the word 'CLUTCH' in green and yellow with a crown on top, and is ideal for flexing on your enemies whenever you pull off a sick clutch.
Sealed Graffiti | Clutch King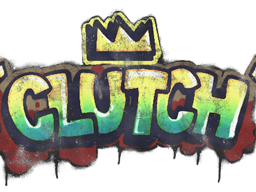 Conclusion
These were some of the best graffiti that you can get in CS2 right now. In conclusion, the choice of graffiti in CS2 can vary wildly between players. In case you weren't impressed by the contents of this list, you can check out all the currently available graffiti in CS2 here. Take your time to browse through the list and come up with a few choices of your own.
Also, Valve is constantly pushing out new content to CS2. As a result, the number of graffiti available in the game is only expected to increase as time progresses. Maybe one of your favorite stickers will get added as a graffiti in the near future, who knows? Till then, pick a graffiti that you like, and start painting the walls of Counter-Strike with your artwork.
Related Articles