P2000 | Grassland Leaves
Released
August 14th, 2013
Wear Range
Every weapon skin has a wear value, sometimes also called float value. The wear value determines how scratched the skin looks and also which exterior it belongs to:
0.00 - 0.07 = Factory New (FN)
0.07 - 0.15 = Minimal Wear (MW)
0.15 - 0.38 = Field-Tested (FT)
0.38 - 0.45 = Well-Worn (WW)
0.45 - 1.00 = Battle-Scarred (BS)
Each skin has a minimum and maximum wear value, that's what we call a wear range. The green line shows the available wear range for this skin.

The Best Skins Under $10
P2000 Grassland Leaves Wear Preview
P2000 Grassland Leaves Gameplay
24h Price Change
-$1.03 (-1.12%)
Volume / Market Cap
0.0000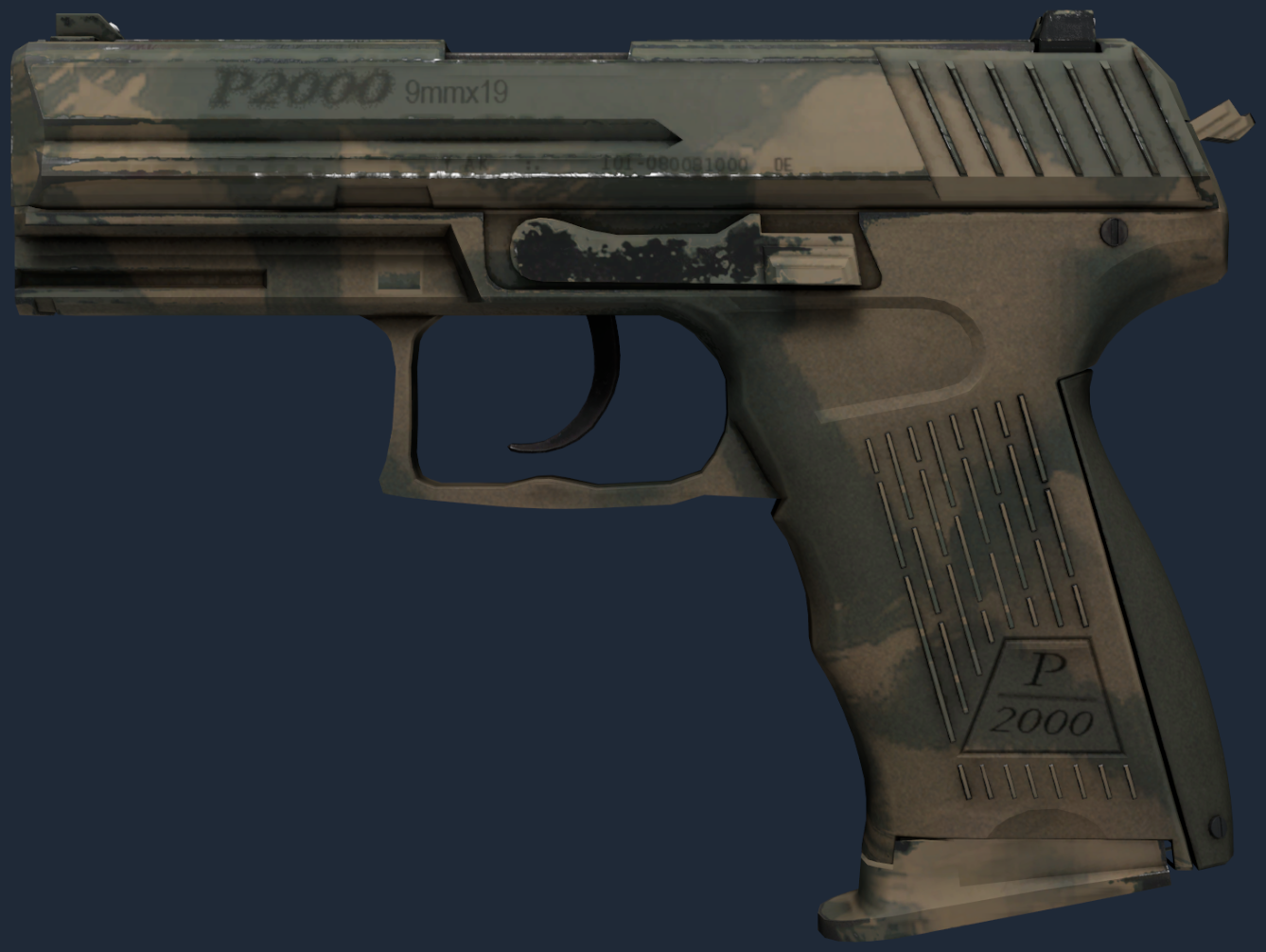 Accurate and controllable, the German-made P2000 is a serviceable first-round pistol that works best against unarmored opponents. It has been spray-painted using leaves as stencils.
History
The P2000 | Grassland Leaves was first introduced to CS:GO 10 years ago, on August 14th, 2013. It was released as part of the "The Arms Deal" update.
Origin
The P2000 | Grassland Leaves can not be obtained by opening any containers. Instead, the skin is part of the The Militia Collection.
Popularity
With a popularity of 70%, the P2000 | Grassland Leaves is currently in the top 30% of the most popular items in CS:GO. This popularity measurement is based on the daily sales volume and the price of the skin.
Rarity
The P2000 | Grassland Leaves is one of 347 other Pistol skins. The rarity of the skin is Industrial Grade, which makes the Grassland Leaves a rather common occurrence in the game.
Availability
With a price range between $6.70 and $91.27, the P2000 | Grassland Leaves is a very affordable skin. Fortunately, it's currently widely available and can be purchased on multiple different markets. There are currently 10.8K units of the Grassland Leaves in public CS:GO inventories.
Versions
The float value of the P2000 | Grassland Leaves ranges from 0.06 to 0.80, which makes the skin available in all exteriors. There are no StatTrak or Souvenir versions available for the Grassland Leaves.
Finish Style
This P2000 has been painted in a "Spray-Paint" style, with the Grassland Leaves finish. The weapon is spray-painted with multiple coats through stencil patterns. That said, this particular skin has been mostly painted in shades of gray. The look of the Grassland Leaves finish is affected by its pattern index.
Community Sentiment
The P2000 | Grassland Leaves has received over 2.2K votes on CSGOSKINS.GG, leading to an average rating of 4.4 out of 5 stars. The skin is currently also owned by the professional CS:GO players iorek and colon.