★ Flip Knife | Rust Coat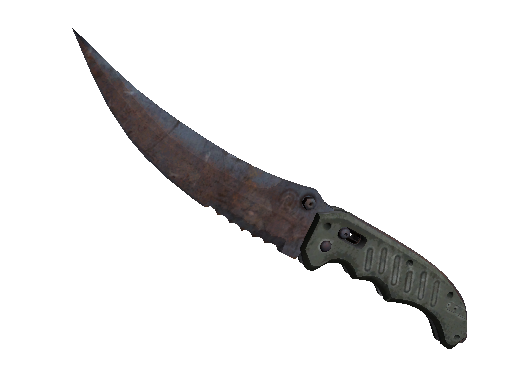 Released
January 8th, 2015
Wear Range
Every weapon skin has a wear value, sometimes also called float value. The wear value determines how scratched the skin looks and also which exterior it belongs to:
0.00 - 0.07 = Factory New (FN)
0.07 - 0.15 = Minimal Wear (MW)
0.15 - 0.38 = Field-Tested (FT)
0.38 - 0.45 = Well-Worn (WW)
0.45 - 1.00 = Battle-Scarred (BS)
Each skin has a minimum and maximum wear value, that's what we call a wear range. The green line shows the available wear range for this skin.

The Best Knives Under $200
Flip Knife Rust Coat Wear Preview
Flip Knife Rust Coat Gameplay
24h Price Change
-$0.23 (-0.11%)
Volume / Market Cap
0.0000

Flip knives sport a Persian-style back-swept blade with an acute point. While the point itself may be fragile, the overall design of the flip knife's design is surprisingly durable. It is still perfectly operational although the exterior surfaces have rusted. Some people don't need to hide how dirty their deeds are
History
The ★ Flip Knife | Rust Coat was first introduced to CS:GO 8 years ago, on January 8th, 2015. It was released as part of the Chroma 3 Case, alongside the "Full Spectrum" update.
Origin
The ★ Flip Knife | Rust Coat can be obtained by opening a Chroma 2 Case, Chroma 3 Case or Chroma Case container. The skin is not part of any collections.
Popularity
With a popularity of 90%, the ★ Flip Knife | Rust Coat is currently extremely popular, which makes it one of the most popular items in CS:GO. This popularity measurement is based on the daily sales volume and the price of the skin.
Rarity
The ★ Flip Knife | Rust Coat is one of 391 other Knife skins. The rarity of the skin is Covert, which makes the Rust Coat an ultra rare drop with an estimated drop chance of just 0.26%.
Availability
With a price range between $195.55 and $229.95, the ★ Flip Knife | Rust Coat is one of the more expensive skins. Fortunately, it's currently widely available and can be purchased on multiple different markets. There are currently 8K units of the Rust Coat in public CS:GO inventories.
Versions
The float value of the ★ Flip Knife | Rust Coat ranges from 0.40 to 1.00, which makes the skin available in Well-Worn and Battle-Scarred. For each exterior, there also exists a StatTrak version for the Rust Coat.
Finish Style
This Flip Knife has been painted in a "Patina" style, with the Rust Coat finish. A patina is a chemical reaction that forms a non-reactive, hardened shell over metallic parts. Real-life weapon patinas include case hardening, cold bluing, and acid forced patinas. That said, this particular skin has been mostly painted in shades of gray. The look of the Rust Coat finish is affected by its pattern index.
Community Sentiment
The ★ Flip Knife | Rust Coat has received over 8.9K votes on CSGOSKINS.GG, leading to an average rating of 4.6 out of 5 stars. The skin is currently also owned by the professional CS:GO players olofmeister and pimp.