★ Falchion Knife | Autotronic
Released
September 21st, 2021
Wear Range
Every weapon skin has a wear value, sometimes also called float value. The wear value determines how scratched the skin looks and also which exterior it belongs to:
0.00 - 0.07 = Factory New (FN)
0.07 - 0.15 = Minimal Wear (MW)
0.15 - 0.38 = Field-Tested (FT)
0.38 - 0.45 = Well-Worn (WW)
0.45 - 1.00 = Battle-Scarred (BS)
Each skin has a minimum and maximum wear value, that's what we call a wear range. The green line shows the available wear range for this skin.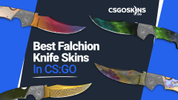 The Best Falchion Knife Skins In CS:GO

The Best Knives Under $200
Falchion Knife Autotronic Wear Preview
Falchion Knife Autotronic Gameplay
24h Price Change
$0.00 (0.00%)
Volume / Market Cap
0.0000

A modern homage to a falchion sword, this clip point blade has a curved edge. It has been anodized red and uses steel mesh to lighten the weight.
History
The ★ Falchion Knife | Autotronic was first introduced to CS:GO 1 year ago, on September 21st, 2021. It was released as part of the Dreams & Nightmares Case, alongside the "Operation Riptide" update.
Origin
The ★ Falchion Knife | Autotronic can be obtained by opening a Dreams & Nightmares Case or Operation Riptide Case container. The skin is not part of any collections.
Popularity
With a popularity of 95%, the ★ Falchion Knife | Autotronic is currently extremely popular, which makes it one of the most popular items in CS:GO. This popularity measurement is based on the daily sales volume and the price of the skin.
Rarity
The ★ Falchion Knife | Autotronic is one of 391 other Knife skins. The rarity of the skin is Covert, which makes the Autotronic an ultra rare drop with an estimated drop chance of just 0.26%.
Availability
With a price range between $173.65 and $389.25, the ★ Falchion Knife | Autotronic is one of the more expensive skins. Fortunately, it's currently widely available and can be purchased on multiple different markets. There are currently 5K units of the Autotronic in public CS:GO inventories.
Versions
The float value of the ★ Falchion Knife | Autotronic ranges from 0.00 to 0.85, which makes the skin available in all exteriors. For each exterior, there also exists a StatTrak version for the Autotronic.
Finish Style
This Falchion Knife has been painted in a "Gunsmith" style, with the Autotronic finish. This style uses a combination of patina and custom paint styles. The skin has been painted in a color scheme of red and gray. Different pattern indexes have no effect on the Autotronic finish.
Community Sentiment
The ★ Falchion Knife | Autotronic has received over 904 votes on CSGOSKINS.GG, leading to an average rating of 4.8 out of 5 stars. The skin is currently also owned by the professional CS:GO player pimp.
Similar Falchion Knife Skins