★ Flip Knife | Bright Water
Wear Range
Every weapon skin has a wear value, sometimes also called float value. The wear value determines how scratched the skin looks and also which exterior it belongs to:
0.00 - 0.07 = Factory New (FN)
0.07 - 0.15 = Minimal Wear (MW)
0.15 - 0.38 = Field-Tested (FT)
0.38 - 0.45 = Well-Worn (WW)
0.45 - 1.00 = Battle-Scarred (BS)
Each skin has a minimum and maximum wear value, that's what we call a wear range. The green line shows the available wear range for this skin.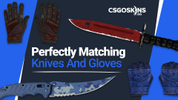 Knives And Gloves That Make For a Perfect Match
Flip Knife Bright Water Wear Preview
Flip Knife Bright Water Gameplay
24h Price Change
-$1.41 (-0.48%)
Volume / Market Cap
0.0000
Considering all available offers for this item, CSGOSKINS.GG recommends Skinport:
Highly trusted marketplace from Germany

Quick registration & checkout process

Wide range of available payment methods

Zero payment fees

No balance top-up required, just pay

Flip knives sport a Persian-style back-swept blade with an acute point. While the point itself may be fragile, the overall design of the flip knife's design is surprisingly durable. It has been painted using a blue camo hydrographic.
History
The ★ Flip Knife | Bright Water was first introduced to CS:GO 6 years ago, on June 15th, 2016. It was released as part of the Gamma 2 Case, alongside the "Gamma Exposure" update.
Origin
The ★ Flip Knife | Bright Water can be obtained by opening a Gamma 2 Case or Gamma Case container. The skin is not part of any collections.
Popularity
With a popularity of 90%, the ★ Flip Knife | Bright Water is currently extremely popular, which makes it one of the most popular items in CS:GO. This popularity measurement is based on the daily sales volume and the price of the skin.
Rarity
The ★ Flip Knife | Bright Water is one of 391 other Knife skins. The rarity of the skin is Covert, which makes the Bright Water an ultra rare drop with an estimated drop chance of just 0.26%.
Availability
With a price range between $204.38 and $294.58, the ★ Flip Knife | Bright Water is a pretty expensive skin. Fortunately, it's currently widely available and can be purchased on multiple different markets. There are currently 8.6K units of the Bright Water in public CS:GO inventories.
Versions
The float value of the ★ Flip Knife | Bright Water ranges from 0.00 to 0.50, which makes the skin available in all exteriors. For each exterior, there also exists a StatTrak version for the Bright Water.
Finish Style
This Flip Knife has been painted in a "Hydrographic" style, with the Bright Water finish. Disassembled weapon parts are lowered through a floating hydrographic film on the surface of a water tank. The film adheres to the primed weapon parts, covering the surface with a pattern. The primary color of this skin is composed of a blue tint. The look of the Bright Water finish is affected by its pattern index.
Community Sentiment
The ★ Flip Knife | Bright Water has received over 4.1K votes on CSGOSKINS.GG, leading to an average rating of 5.0 out of 5 stars.